Our Consultants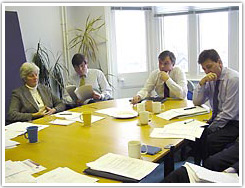 Our strength lies with our consultants who, between them have clocked up over a century with EuroCareer Consultants!
Each consultant offers a unique strength whether it be in mentoring, counselling, coaching, assessing or training.
Together, they work as a strong team, meeting regularly for training sessions, learning and keeping up to date with all aspects of career coaching and job hunting and exchanging best practice amongst themselves.
You'll find them professional, approachable and fun to work with.
The Team
Stephen Edwards


Stephen set up EuroCareer Consultants in 1991 with the passionate belief that enabling individuals to do more for themselves would provide them with the confidence to take control of their own future.
He believes that EuroCareer's success is based on developing a personal relationship between the companies with whom we work and between the consultant and the client, so is working more and more with firms who recognise their social obligations, seek to maintain their reputation and look to their suppliers to provide professional high quality support to their people.
Brought up in Portugal and Zimbabwe, Stephen is a keen skier and mountain walker and speaks Portuguese and French.
Chris Haworth


Chris joined EuroCareer Consultants in 2007 where he now focuses on career transition programmes for executives, newly qualified professionals and returning expatriates. He has expertise  in general management, finance, operations and programme management roles across a wide range of sectors.
Following a Civil Engineering degree and an early forces background, Chris completed a Cranfield MBA.  He spent several years in finance and consultancy roles both in the UK and overseas and  has worked in executive resourcing, with Coopers and Lybrand and with PwC.
Chris's interests include tennis, skiing, yachting and playing bridge. He is a trustee of a Nepali based charity that helps disadvantaged and trafficked children.
Edward Simpson


Edward's main interests with EuroCareer lie in mentoring and coaching senior executives, general counselling and in the Career Review Programmes for young newly qualified professionals.
Before joining EuroCareer Consultants in 1992, Edward was a director of two executive search practices; this has provided him with a wealth of experience in job search programmes.
Edward's commercial experience was gained in finance and marketing in the aerospace and pharmaceutical industries followed by a number of years in management consultancy.
A keen singer, Edward performs regularly with the Hertfordshire Chorus in London and Europe. He's an enthusiastic follower of sport in general and rugby in particular!
Eric Watterson


Eric has been with EuroCareer Consultants for 14 years, handling clients from science and technology companies, from the professions and from commercial enterprises. He specialises in Performance Coaching of senior executives.
He brings experience as a senior manager in both ICI and an NHS trust. In addition, Eric is an accredited family mediator and a professional supervisor of mediators. He has a private practice in personal and pastoral counselling.
Eric has recently completed an MSc in Psychology at Birkbeck College, University of London.
Robert Grover


Since 1997, Robert has worked extensively with EuroCareer Consultants in one to one outplacement and Career Options Programmes with a recent focus on working with trainees in the legal and accountancy professions.
Robert began his career with an international shipping group where he was involved in all aspects of commercial management, travelling extensively throughout Europe and Australasia.
Since 1988 he has also worked as a human resource recruitment consultant undertaking assignments for a wide range of companies and organisations operating across all sectors of industry and commerce in the UK and overseas.
Robert has an interest in a range of child health and social issues. He also has an unhealthy obsession with purchasing CDs, enjoys reading biographies and is very interested in the film and broadcasting industries.
Roger Niven


Roger's main interest is in improving individual and group performance. For the last four years with EuroCareer Consultants he has focused on Executive Coaching.
Previously Head of Operations Training at British Airways, then Head of Customer Service at the London airports, Roger trained as a strategy consultant in the USA and worked internationally, advising in areas where clarity of business focus, the use of IT, organisational structure, and leadership were critical factors.
Roger is a Fellow of the Centre for Leadership Studies at Exeter University, and an Associate Consultant at Cranfield. He is an accredited member of the Association for Coaching, and has advanced practitioner and post-graduate certificates in executive coaching.
He is an active sportsman, a school governor and fundraiser for a children's hospice.
Tony Pearlman


Tony's work with EuroCareer Consultants has spanned over 12 years. During this time he has provided support to individuals and groups at all levels including performance and talent retention coaching, mediation, career support and vocational rehabilitation.
Tony has a wealth of business experience at senior level developed both in the UK and widely overseas, particularly in Arab, Japanese and African cultures.
Having held many directorships and senior management roles in the engineering, civil engineering, construction and property industries, Tony has in depth experience of dealing with human and management issues.
Tony's interests include golf, sailing and music.
David Heath


David has worked with EuroCareer Consultants since 1999, specialising in career transition and one-to-one coaching.
Previously having worked for 12 years in business information publishing in a variety of sales, business and general management roles, David now owns and runs a consultancy specialising in sales, communication and people management skills training and development.
He lives in SW London with his young family.